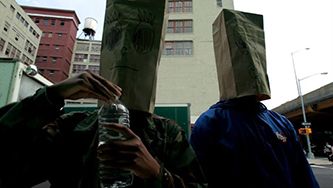 aiP & Chimp began with two New York City music video directors, a camera and a vision. In December of 2012 Avery Jones and Pia Fergus joined forces to create a film company that is pure,honest, hard working, creative and true to itself. aIP & Chimp is just that. We put our hearts and minds into creating powerful visuals. We have a team of actors and filmmakers that play key roles in our productions in order to make your project successful. We are artists with passion, depth and skill.
Our work has been featured on countless blogs and magazine websites like the ones shown below.
Elephants film (Unofficial Trailer) 2013
Elephants is a screenplay written by Avery Jones. It is based on 4 illusions of mankind. Power, Truth, Seperation and freedom. We are currently working on getting funding to create this film. Stay tuned! www.elephantsmovie.com
We work directly with clients, collaborating, brainstorming and generally filling the role of agency and production house at the same time. We have on call actors and camera hands as well as writers and engineers.
Projects and people we love:



aiP & Chimp is always reaching out to the community. We truly believe in everyone just as much as we believe in outselves. We are always seeking talent in the form of actors, writers, directors, musicians, techies, inventors, and all the other creatives. And guess what? We put our money on the underdog. We have the tools to make any project come to life. Not only come to life but also reach its full potential. If you have a great idea and you can make us believe in it then we can help you bring your idea to the big screen.